The information in the page is the work of Chris Carr and is copied from the lowlight UK site
http://www.tomholdermark.co.uk/KGOC/forum/viewtopic.php?t=296

Chris did a great work in gathering information about the lowlight Ghia and shared it with the rest of the world. Unfortunately the forum was crashed and Chris couldn't continue the work.

Chris agreed to post the information on this site and the work will be continued.

---


Prototypes The Early Days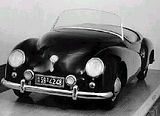 1952: This was a Karmann design for a 2-seater VW coupe. Heinrich Nordhoff (head of VW) and Wilhelm Karmann (head of Karmann) were in discussions to build a sports-coupe based on the VW Beetle Karmann was already building the 4-seater Karmann Beetle for VW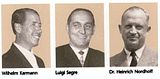 The boys
Italian Designer Luigi Segre, owner of the Turin/Italy based Ghia styling studio, proposed a new Coupe design to Karmann and VW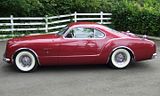 The 1952 Chrysler D'Elegance 2 door hardtop - a design influence for the Volkswagen Karmann Ghia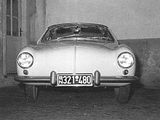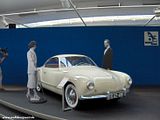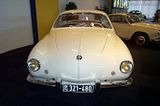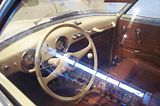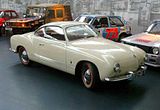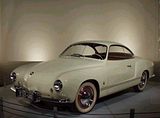 The grandaddy '53 prototype Coupe
Pic1: From '53. A lot of early pics seem to have been taken in this location
Pic2: With split front bumper
Btm: Use of photo kindly agreed by www.typ14.de



I understand this is a 1953 VW Karmann Ghia Cabriolet Prototype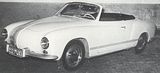 Prototype Cab

6.2 The Kasino Hotel Launch 14.07.55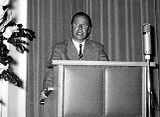 14.07.55: Wilhelm Karmann introduces the Ghia to car journalists and VW dealers at the Kasino Hotel in Georgsmarienhutte. A Gazelle Beige Coupe was then unveiled to car journalists and VW Dealers in the Kasino Hotel's small hall
Karmann repeated this exactly at the GMH05 '50th anniversary celebration' (15.07.05)!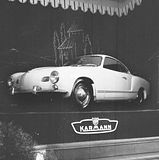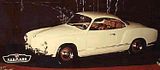 And 10 Cars are made available for test drive, all shown parked to the side of the Kasino Hotel near the lake
I think we know the car 'pulled forward' was a Lizard Green Coupe - the car behind it may have been Antelope Brown?
An extension (the cafe/patio) has been built here since, but you can still park there



Is this a row of four Gazelle Beige 56's, ready for you to take on a test-drive?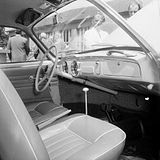 Not enough black plastic



Luigi Segre and Wilhelm Karmann take a breather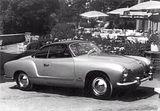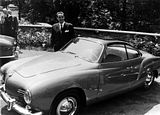 The 'pulled forward' Lizard Green Coupe?
Use of top pic kindly agreed by www.typ14.de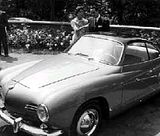 I think maybe Ledge Johnny was there with the wife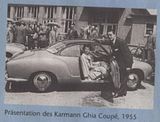 Shows more of the Kasino Hotel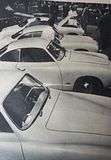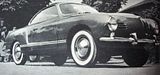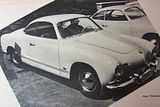 6.3 The Frankfurt International Motor Show September 1955
The sensational new Karmann Ghia Coupe was first unveiled to the public at Frankfurt's International Motor Show in September 1955
Two cars were displayed - a Lizard Green (with Deep Green roof) Coupe on a turntable, and a Toucan Black Coupe at floor level first unveiling of the Ghia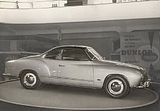 The Lizard Green Coupe on the turntable
Cool Dunlop signage



With the whitewall-equipped Toucan Black Coupe in the foreground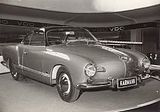 The turntable Coupe was tethered to the stand from behind each wheel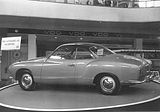 From the four pictures above you can tell the 2-tone wheels changed colour right at the groove - this obviously changed in later production
If a rear seat was fitted, it was folded down for these shots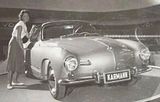 This lady will show you around if you ask nicely
Use of photo kindly agreed by www.typ14.de



The Lizard Green Coupe
Use of photo kindly agreed by www.typ14.de



& in colour. The object top right is a super-cool Karmann logo'd glass sales cubicle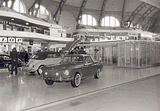 A similar Karmann sales cubicle at a later motor show?
Use of photo kindly agreed by www.typ14.de



Colour pic including the Toucan Black Coupe. Yours for 7500DM.  Check out the Hella sign & the upstairs detail

6.3a The Frankfurt International Motor Show September 1957
The sensational new Karmann Ghia Cab was first unveiled to the public at Frankfurt's International Motor Show/Internationale Automobil-Ausstellung/International Automobile Show (The IAA) in September 1957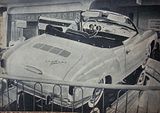 Cabrio launch! There was at least a Pearl White Cab! Was there a second Cab?

6.3b Motor Shows, Other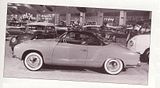 German car show? Lowlight Ghia, Beetle Kab, Standard Bus

6.4 The Karmann Factory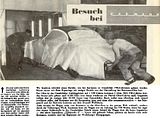 Masking for 2-toning the roof!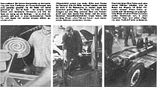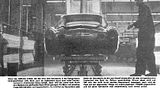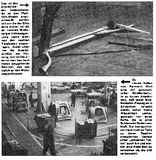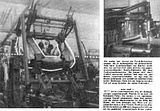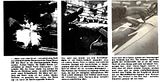 Comments to be added (or give OGR a call - he speaks German)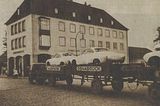 Coupes get trucked around the Karmann factory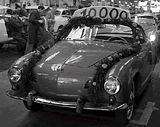 22.10.56: The 10 000th Ghia is made
I see Jeff Lipnichan's cool Early Ghia Registry lists a Coupe with body number 10 022 (produced 23.10.56)
It lives in Finland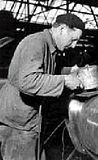 God is in the Detail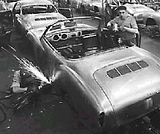 Ok, a 60s Cab, but still cool to see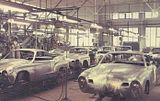 COOL COOL COOL 1
Checkout the clarity
Use of photo kindly agreed by www.typ14.de



COOL COOL COOL 2
Checkout the detail, and the single Black Coupe


Karmann Assembly Line 58/9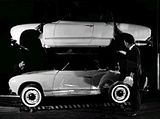 The fully assembled body was craned onto the (slightly modifed) Beetle floorpan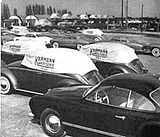 Those Karmann hoods, to protect the Cabs
Karmann factory car park
Anyone fancy making some for a Ghia?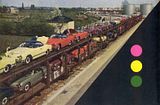 Check out the 58/9 Coupes loaded onto the Karmann delivery train out of Osnabruck
Bamboo, Brilliant Red, Cardinal Red, Cognac, Black, Dolphin Blue?, Aero Silver....
Note no hubcaps or headlight glass installed
No swan-neck mirrors either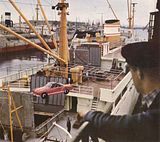 A Brilliant Red/Black Lowlight Coupe gets loaded into a ship's hull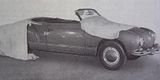 58 Cab from the 1958 VW Workshop Manual/How to trim the hood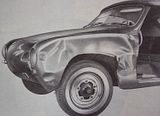 Crumpled 58 Cab from the same Manual/How to replace damaged panels



More factory hood detail, 58/9 – note the window tapers as you go up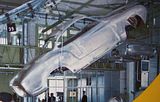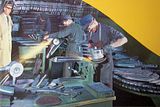 May 06: Karmann Lowlight production line (58/9) overload!
Did you see the 2 Cabs? LHS, 3rd back & RHS, 4th back?

6.5 The Montage Suisse Ghia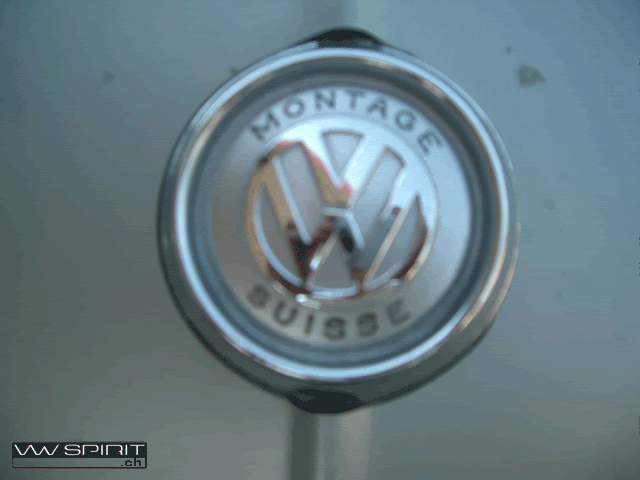 Apparently between 1957 and 1960 a Swiss company called AMAG (based in Schinznach-Bad, Switzerland) built a total of 1098 Karmann Ghias under VWs approval for the domestic Swiss market AMAG had been an VW importer since 1948, and also provided for Lichtenstein.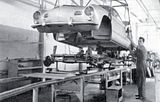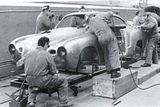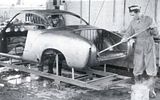 Cool period Suisse Montage pics (thanks Udo)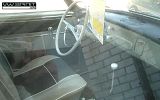 Differences from the German production included the nose badge and (for late 59 models tbc) the speckled/perforated dashtop.

6.6 'Press' Pics
All hubcap logos tend to be in the correct plane



The first Ghia to be shown in Sweden
Checkout the name, pre 'Karmann Ghia'
Apparently there was a Sedish press-pack issued, with 3 or 4 photos of this Coupe
With thanks to Jonas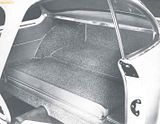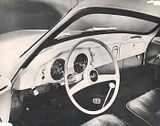 Early brochure Ghia




An early newspaper article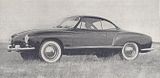 Flying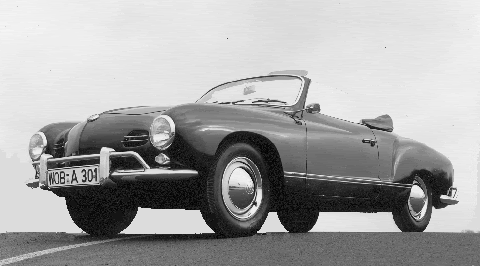 Pressphoto Cab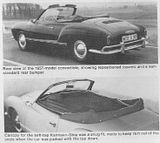 Top: The same German-registered Cab
Btm: Tonneau cover is fitted to a Lowlight Cab - you can tell by the visors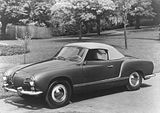 Pressphoto Graphite Silver Cab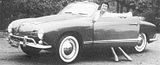 One of the first US import Cabs?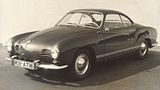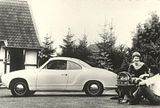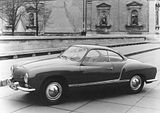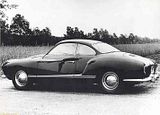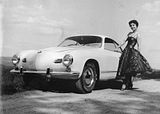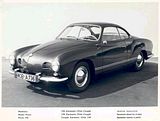 Coupes
Use of some photos kindly agreed by www.typ14.de



Unusual Gazelle Beige (tbc) with matching wheel centres/roof - was this an early colour trial?
I like it



Picnic time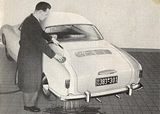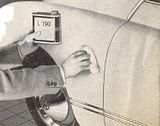 From the Jan 57 Instruction Manual. Have you got the polish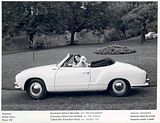 The Pearl White Poodle Cab. Note the Gazelle beige coupe lurking in the background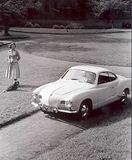 The Gazelle Beige Poodle Coupe

I think we're worked it out that all these pics taken around a little green, & next to a lake, were taken round the side of the Kasino Hotel. We're not as stupid as we look
Shame we didn't take a wander at GMH05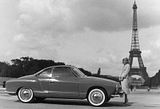 Pelican Red/Toucan Black 56/7 Coupe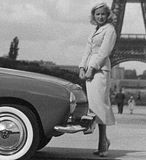 Paris? OGR would like to take her somewhere special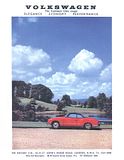 Cool UK period ad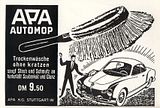 Period 'brush' ad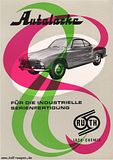 Oil ad?



Cool factory pic of (i'm thinking) a 57 Coupe



Everything a girl could possibly want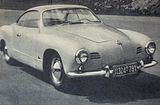 Road-Test Gazelle Beige '56



I have that this is the showroom of the first VW dealer in Amsterdam, Holland, called 'Kost', around 56/7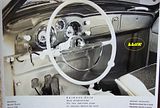 Press-release 58/9 dash pic - notice the speedo reading, the 'incorrect' wiper arm, the Karmann standard issue key fob, and the gearshift lock - maybe a test vehicle?

6.7 Period Pics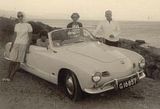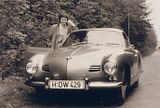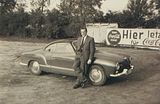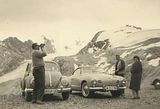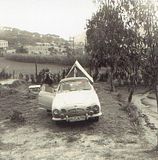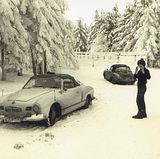 Same car in the two pics above
Check Fake Grill & Fender Flags



A UK showroom



Hillclimb Coupe - looks red with a black roof to me



UK's KFO 490 (Antelope Brown '57), at a US army base in Germany. I think that's a young OGR



50s pic of a 50s dude showing off with his 50s Coupe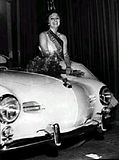 Miss Germany 1959 enhances a Pearl White Cab



Showroo
display. Looks Toucan Black to me
Check out the cool period (Routers) Beetle poster



Pearl White Cab at a gas station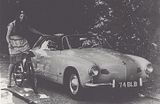 The UK's well-known Bambus Golde Sunroof '58 Coupe in earlier days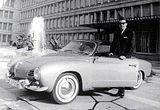 Dude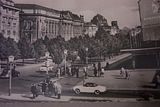 Frederich Strasse Berlin 1959
I reckon this is a Bamboo/Deep Green Coupe. Nice whitewalls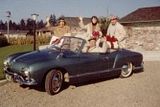 Xmas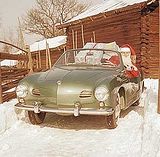 Not sure where this came from
Santa in a Diamond Grey Cab



Elegant
Use of photo kindly agreed by www.typ14.de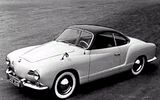 Looks like a 56/7 to me by that location of the exterior mirror
Use of photo kindly agreed by www.typ14.de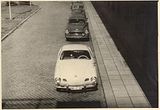 German 56/57 Gazelle Beige Coupe in receipt of a few unusual dents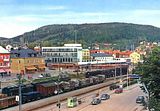 Cool postcard of a scene in Kramfors Northern Sweden showing perhaps a Brilliant Red Coupe?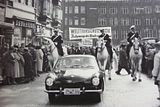 My German speaking source tells me this is a Hamburg animal welfare march
Whatever – the important thing is there is a sleek new 56/7 Black Lowlight
Coupe taking all the attention!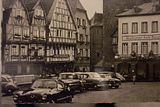 'Linz - The gay town on the Rhine' says the reverse of this German postcard
The supplier of this pic likes to visit just this sort of place but hey that's none of our business - let's stick to VWs huh
Possibly a Black 56/57 Coupe c/w spotlights framed by Ovals left & right
Linz is on the way to BC - maybe we'll check it out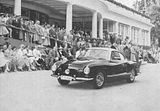 Early concours d'elegance?
This Coupe seems a bit odd to me
It looks like a 56/7 (no rear window demister vent) yet the paint combo is light over dark
Like the VW Bus of the era in 58 the Ghia paint fashion flipped to being light over dark
Prior to this it was dark over light
Perhaps it is a Toucan Black Coupe where the owner has had the roof painted white
356 style wheels & front spotlight also give this Coupe some individuality
& is it my eyesight or are those painted swoops coming off the top of the headlights?!



Which car would you choose? No contest is there?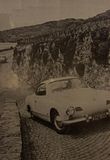 Climber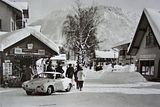 Snow Chain Coupe year/location unknown (but I can tell you the time)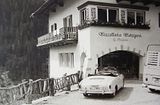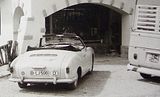 Pearl White Cab

Period Lowlights in Colour


The car looks green but the greens always came 2-tone?
Must be one of the blues? Dolphin Blue? Trout Blue?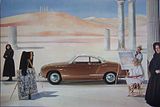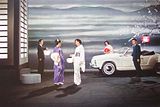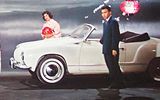 Cognac/GreyBeige roof '59 Coupe (top) and Pearl White Cab (btm)
From a 1960 model-year VW calendar



Top early shot of a Pearl White Cab. Black hood bag whitewalls
Use of photo kindly agreed by www.typ14.de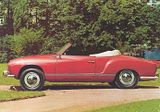 Top early shot of a Cardinal Red Cab. Ivory hood bag Cardinal hubcap logos
Use of photo kindly agreed by www.typ14.de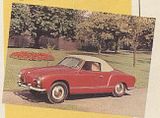 Cool 'Press' pic of the Cardinal Red Cab at 'the GMH Kasino Hotel lake'
Hubcap logos are body colour



Great period pic of a Pelican Red/Toucan Black 56/7 Coupe
Assumed taken in Holland
Check the accessories - Petri horn push solid wheel trims + spinners tiny rear view mirror reversing light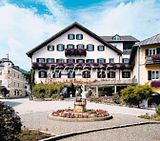 Check it!
Amazon Lowlight Cab at St Gilgen nr Saltzburg and Lake Wolfgangsee Austria
Can you spot our own cultured Irreverent (with the shorts) - crossing Mozart Platz (Mozart's mother was born there) back to the Post Hotel where he was staying back in 1960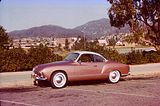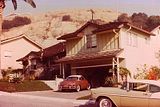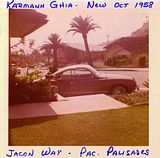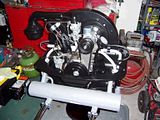 Top: Fantastic early colour shots of a US Cognac (with GreyBeige roof) '59 Coupe
This Coupe was purchased new by Geoff's grandfather for Geoff's mother
The Coupe took Geoff's parents on their honeymoon and it was the family daily driver until 1981
Since '81 it has been stored in their garage
Geoff has purchased the Coupe from his mom (see 2nd btm pic) and is currently undergoing a full resto
When complete the Coupe will remain in the family
Update 04.11.05: 30hp engine resto complete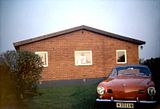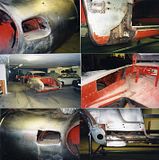 Jonas' Swedish 1959 Brilliant Red/Toucan Black Ghia
The owner was a young wrestler from Gothenburg - apparently lots of Swedish guys either wrestled or boxed at that time
Top picture is from 1959 taken outside the wrestler's house
The wrestler also ordered a more powerful engine an Express unit from Knust in Hannover Germany - Jonas has just finished restoring this
Coupe will be strictly stock (except for Porsche A brakes) interior is original
Floor is restored body close (was good for a Swedish Ghia). Could be on the road 2006...one to look forward to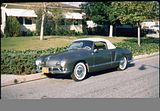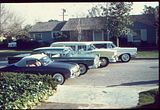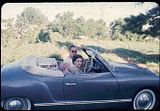 My cab (2 366 171 Graphite Silver)

6.8 Forlorn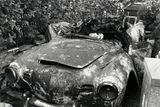 Oooofff



Seen on a trip to Texas in '96
'58/9 Lowlight sandblasted and left to rot like a dog
I gave her a pat & loved her one last time
Btm pic shows (left to right) middle ('60-'69) early ('55-'59) and late ('70-'74) Ghia shapes


6.9 RockStock's Top 10 Ghia Patina

Cabs
4 Cabs have been waved through by The Patina Police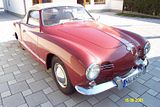 Cab 2 438 398 (Cardinal)
Do they come better than this?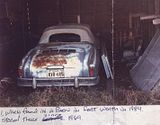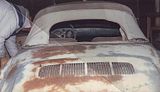 Cab 2 475 680 (Amazon)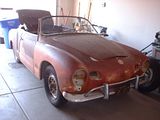 Cab 1 985 690 (Pearl White)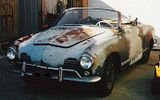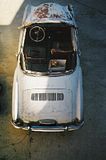 Cab 2 366 171 (Graphite Silver)

Coupes
To follow

6.10 Other



I was told by the guy who posted this pic on thesamba that it was taken around 1995 in Jerome Arizona. A friend of his took it - a guy drove up in the Ghia got out and started playing a guitar in the park. The cat just walked across the street
Still around? Soon to be transferred to 'Gallery: International Cabs'
Top pic & I'd roll it



Top: A young untroubled (heterosexual) RockStock instructs JohnBoy in '97
Btm: Merry Xmas 05 from Bedfordshire England! Pic taken in 2001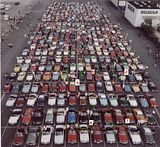 GMH05 - were you there?
Thank you to the five Lowlight Cabs that attended:
1. German (formerly Austrian) Cardinal Red 1959 Cab 2. German (former USA) Amazon Cab 3 Spanish (formerly Dutch) custom red early '58 with later nose grills 4. German Black Cab
I'm not sure I have the right Cab circled for 3)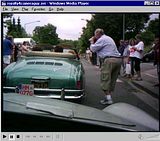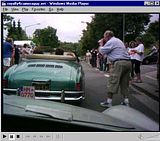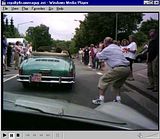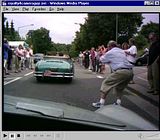 Dude taking snaps of Cab 340 (or The Fonz) at GMH05 at the start of the convoy to the Karmann factory in Osnabruck. And who can blame him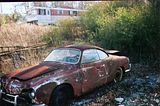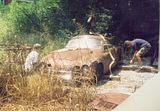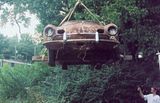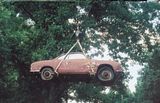 Cool rescue op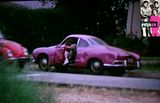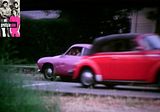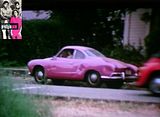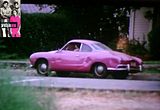 A rich high school hunk falls for quirky creative college girl Andie
Unfortunately Andie is from the 'posh end of town' but hey she drives a cool de-trimmed pink Lowlight Karmann Ghia Coupe
The Coupe bears an Indiana license P9C-489
My sis has just lent me the dvd and I reckon it's a 56/7 judging by the steering wheel
Just for you freaks I'll be sitting through the whole film soon for age confirmation
This coupe looks right up Irrevelent's street



LLUK Line-up 1 ACE 20.09.05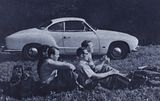 The Original Dream Team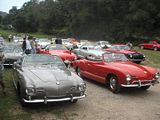 KPPR Treffen 08 Ventura CA May 06
4 Lowlight Cabs attended Treffen 08 (Cabs 240 690 300 & 600)
There were 5 at GMH05
Will the UK match this soon?

Ken's Big Day Out April 06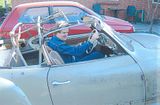 lluk asked Irreverent to get to Denmark to check out Jan's cool Cab 365
Jan even took him out for a ride
The DG interior is Honey Brown markedly different to the Red that the PW/GS/Black Cabs share
Irreverent also bought a couple of choppers while he was out there as you do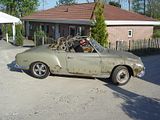 Jan turns a few doughnuts


Like a kid in a candy store


Sorry about the glare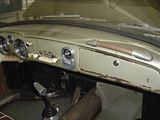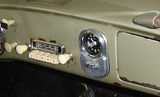 Had you spotted the Kienzle Ashtray Clock? Desirable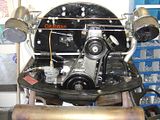 OKRASA!


All the correct knobs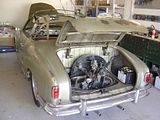 Off the hook!!! Love it!

Previous lluk Headers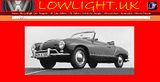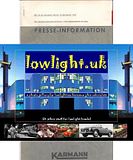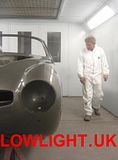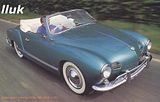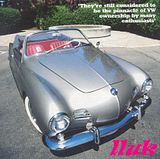 The Peppercorn show Kent UK 09.07.06....Irreverent & OGR get down to some heavy buffing alongside 3 of the UKs coolest lowlights