The information in the page is the work of Chris Carr and is copied from the lowlight UK site
http://www.tomholdermark.co.uk/KGOC/forum/viewtopic.php?t=296

Chris did a great work in gathering information about the lowlight ghia and shared it with the rest of the world. Unfortunately the forum was crashed and Chris coundn't continue the work. 

Chris agreed to post the information on this site and the work will be continued.

---

7. GOD IS IN THE DETAIL 1
7.1 Obvious Lowlight Features
7.2 Authenticity
7.3 Cabriolet Only Features
7.4 Obscure Cabriolet Facts

Introduction
God is in the Detail is focussed around the Lowlight Cabs, not Lowlight Coupes
This is work in progress, with more detail and pictures to follow
All details (paticularly chassis numbers/dates) to be verified - hopefully this will become more 'correct' over time
There are bound to be disagreements
I will try to put down VW-stated chassis numbers
It is common opinion that Karmann/VW used up old stock before/during switchover to the updated item

7.1 Obvious Lowlight Features
Grills
The small two bar fresh air intake grills were replaced with a larger 3 bar grill for the 1960 model year




Taillights
The small art-deco Rectangular Taillights were replaced with larger units for the 1960 model year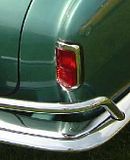 Wings
The front wings swooped down at the front, so featured lower headlight locations than the 1960 model year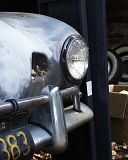 Wider lower 'Apost' section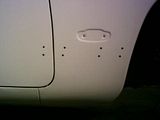 This section was thinner for the 1960 model year as the front arch profile was altered

7.2 Authenticity
How correct is your Lowlight Cab?
It is not easy to tell a 59 model year Ghia Cab from a 58 model year Ghia Cab - there were no instantly recognisable updates introduced for 59

Badge - Side ('Karmann')
All Lowlights featured an 'Eared' side-badge

Badge - Rear ('Karmann Ghia')
All Lowlights featured the large rear script
This was replaced by a smaller version in 1964

Badge - Front ('VW')
The Blue Enamel Badge was replaced with the Solid Chrome Badge in September 1958 tbc (def between August 58 and January 59)
Both these badges were single piece units

Bolts/Fittings
Some acceptable Bolt makes for your Lowlight Cab include:
KAMAX
RASCHE (bad)
GEBI
GRAEKE
KNIPPING tbc

Bolts that should be painted body colour:
[list]4 x Bonnet to Hinge Bolts
4 x Decklid to Hinge Bolts
2 x Glovebox bolts (with a crushable lock washer)
16 x door hinge screws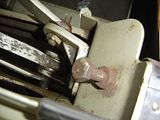 2 x Hood Mechanism Stop Bolts[/list:u]

Bolts that should be natural finish(i.e. silver):
[list]Front latch
Rear latch
Petrol Tank Clamp Bolts
Fuel Sender Bolts
Engine Tinware etc
Front Beam (top) Bolts
Most bolts behind the door panels (ie window winder mechanism)
All screws on trailing door edge
Door Catch Screws (Bpost)
Hood Mechanism to Body Bolts (Bpost)
All Bumper Bolts[/list:u]

Bolts - General
Bonnet to Hinge Bolts: Rasche 5D (Sept 58 Coupe, April 59 Cab, June 59 Coupe
Bonnet to Hinge Bolts: Rasche 5D (Sept 58 Coupe, April 59 Cab, June 59 Coupe
Decklid Hinge to Body Bolts: 10mm Rasche (April 59 Cab)
Hood Mechanism Stop Bolts x 2 (located behind the Bpost area): 17mm 'Gebi 8G' (April 59 Cab)
Hood Mechanism to Body Bolts x 6 (located on the Bpost area): 17mm 'Graeke' (April 59 Cab)
Glovebox: Kamax*

*Most glovebox bolts seem to have been Kamax, although my Cab had a 9mm Rasche bolt on the lhs and a 10mm Kamax bolt on the rhs
Were the two glovebox bots always a differnet size, or is this just my Cab?
Question is, do i go 2 x Kamax??

Your engine should suffer from Kamax bolt overload

DIN 933 = 5D
DIN 931 = 8G (higher tensile strength)

Bolts - Washers
All floorpan bolts were 14mm (Kamax)
Your washers for the 4 floorbolts located under the rearseat should be of the large round type (i.e. not the large rectangualr floorpan washer style)
Round thin wavy washers (proper name to follow!) of a similar diameter were used for the bonnet, decklid, and floorpan bolts
The large rectangular rear side floorpan washers (one on each side) had an off-centre bolt hole due to its close proximity to the rear floorpan support

Bulbs
Festoon bulbs were used for 1956 and 1957 model year Ghias (taillights, number plate light)

Carpet
From 1 154 228, there was no carpet used at all in the are forward of the rear seat
From this chassis number, the only carpet was the nine pieces around and behind the rear seat
The Lowlight Cab carpet was of a tufted texture, slightly different from the later (and earlier) common square-weave carpet (ie like that used in Beetles of a similar age)

Rubber matting was used for all the area in front of the rear seat
I find this a little strange as the Karmann Ghia was considered a bit of a luxury model when compared to the Beetle
The Bulkhead Mat is a rare site today, having either dried out/cracked/been damaged by feet, or being replaced with carpet

Dash - Profile
The profile of the metal dash changed
Pics 1/2/3 to follow
1958


From Jan 1959 tbc (to accomodate the new Ribbed Padded Dashtop)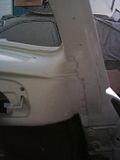 Dashtop
The painted metal dashtop was covered with a Ribbed Padded Dashtop from 2 252 435 or 2 261 049 or 2 257 979 (!)
A VW manual states 2 261 049
At the same time, the inner a-post gained a thin black vinyl covering (template available upon request)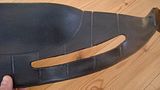 The RPD was initially just glued on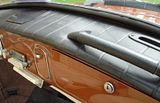 But later (6 July 1959, chassis 2 490 635) a metal Retaining Strip secured with screws was used at the lower Dashtop edge, together with a pair of Retaining Trims (again secured with screws) for each defroster vents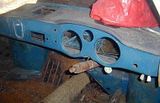 The Ribbed Padded Dashtop became Smooth in 1961

Doorpanels
Two main different styles of doorpanels were used on Lowlights
1. Cord: The earlier 56/57 style used cord
The passenger side had a large handle/armrest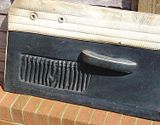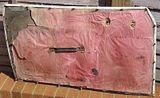 2. Waffle: The later 58/59/60 style used a waffle material
The Waffle Doorpanel is believed to be the only style used on Lowlight Cabs
It had a smaller passenger pull handle/armrest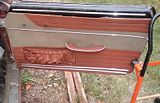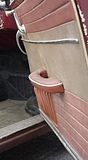 Both types of panel used a Leather Pull Stap (with chrome brackets) on the driver's side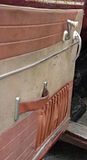 Doors
Two different styles of check straps were used on Lowlights
A third style was introduced for the 1960 model year

Drain Holes
Sill (rear)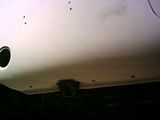 Sill (front)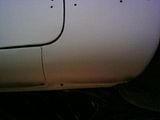 Better pics to follow

Engine
Your 58/59 Lowlight 30hp engine should feature (WIP):
All screw terminals (ie coil)
Upside down Bosch coil sticker
Late 30hp fuel pump style (with removable filter)
Kamax bolts: Distibutor clamp, wip
Knipping: Fan to Fan housing bolts, wip

Engine Compartment (wip)
Battery
Battery cover
Battery strap
Battery strap bolt
Battery earth
Firewall

Fuel Gauge
Only fitted from 1 649 253 (start of 58 model year)

Glass - Windscreen
Logo
Cab Windscreen Glass is the same as Coupe
The Windscreen size (height) changed in 66/67 tbc

Glass - Doors
The Cab's Door Glass had a curved trailing top corner (as opposed to the Coupe's squared trailing top corner)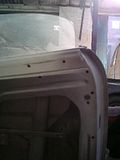 For the Cab, the lower edge was horizontal, angling up at the rear


Better pic to follow

For the Coupe, the lower edge was horizontal, angling up at the front and the rear
Cab Door Glass is correct from the 1958 model year to 19**

Grills (The OGR Quartet)
A little known fact, & a bit of a favourite detail of mine, is that there were (on at least some Lowlights) four small holes per Grill drilled into the nose
These holes were for little rubber grommets that prevented the grill resting directly onto the paint


(Photo of grommet to come)
I have seen these on 1959 Ghias, ranging from my April 59 Cab to a very OG July 59 Coupe
I believe Cab 2 287 395 (Feb '59) did not have this detail
I believe it to be a late '59 only feature
These holes get filled when a car is restored, under the impression they should not be there - I nearly did this to my Cab
The Grill area is one of the first places to be struck by rot, hence evidence of these holes disappears
Does your Lowlight have this detail?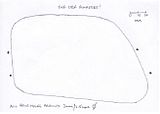 I've put together a crude template from my Cab - probably doesn't print actual size - let me know if you need one

Headlight Bowl
LL Cabs, from btm to top: 1 x Draining bracket, 1 x Wiring hole, 1 x Earth fixing (spot welded to bowl), ! x spring bracket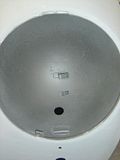 Hood - Correct Features
Three very original Cabs have been used for these pictures and this research:
[list]Cab 2 257 305 (UK Bernina, og headlining, replacement outer hood)
Cab 580 (German Cardinal, second outer hood, og headlining bar replacement window section, og hoodbag)
Cab 340 (German Amazon, hood – and interior - could be all original)[/list:u]
I also have some good detail pics from the 1958 VW Workshop Manual – scans coming soon
So many Cabs have incorrect hood/headlining detail – get yours right!
Once you know the facts, these incorrect details jump out at you!
I have a rear window template, taken from the Bernina Cab, if anyone would like one

Rear window dimensions (& location) coming soon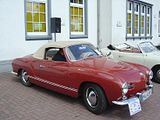 General shot, Cardinal – this Cab's second hood looks correct from this angle



Rear window, Bernina – I think this represents the correct rear window shape/location
This Cab has its og headlining, but has a replacement hood
The rear window follows the headlining shape, so to me this means it is correct
Note the 2 x hood seams fall just inside the second hood bag popper (correct)



Rear window, Bernina – different view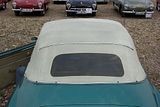 Rear window, Amazon - looks pretty correct. Window sits a little too high?
Again, seams fall just inside second popper (correct)
For all I know this could be this Cab's og hood. Watch this space



Rear window, Cardinal - too large, strictly speaking. Check it against the two above



Headlining, Bernina – all og. Woven wool. Check that thick beading around rear window section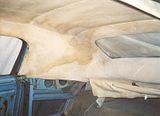 Headlining, Bernina – check those correct 2 screws on the hood frame Bpost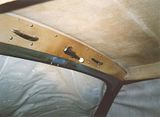 Headlining, Bernina – check that correct front screw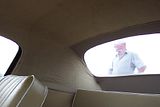 Headlining, Cardinal - mostly og, only the rear window section has been replaced (window too large)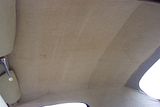 Headlining, Cardinal - superb and og. You won't find better. I'm tellin' ya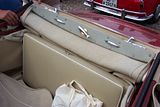 Header bow, Cardinal – arrows on label correctly point down (tbc). All looks very correct
Most header bow covers seems to be vinyl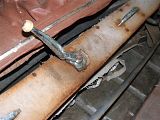 However, UK Cab 1 833 575 (Feb 5
has this piece in woven wool (same as the headlining
So it looks like it was woven wool on the very early Cabs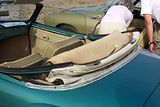 Header bow, Amazon - intermediate bow seems to have stuck – my guess is the two internal bands have snapped, or the bow needs lubrication. The bands are there to pull this bow into the correct position



Header bow, Amazon - all very og. Nice



Header bow, Amazon – superb




Hood Bag, Cardinal – I think this is og on the Cardinal Cab. Check white piping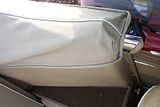 Hood Bag, Cardinal – check that detail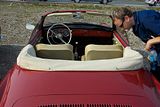 This trainspotter has nothing better to do than checks out those Lowlight Cab details

Headlining
All 1958 and 1959 Cabs had the Woven Wool Headlining
Please see pics above

Hood - Header
The very front piece with the handles seems to have been (most of time)covered in vinyl. My Cab's was light grey - didn't match any other vinyl on my Graphite Silver cab (although maybe matches rear parcel shelf tbc)
This is from an og Cardinal Red Cab, and it also appears to be light grey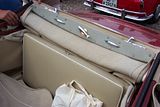 Very early Cab header bows may have been covered in the woven wool headlining material - see picture in the section above

Hood - Winder Handle Label
Do you have the 'Open/Closed' label fitted behind the closing winder handle? I rescued one of these from a '67 Cab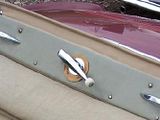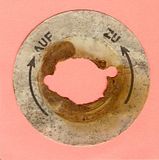 Outside diameter is approx 63mm/63.5mm
Inner diameter is approx 20mm
2 x small holes are approx 5mm, seem off centre
The centre of these 2 small holes are approx 15mm from the overall label centre
'ZU' and 'AUF', with arrows, not sure of the font type, black print
Thin white card (thickness of a birthday card?)
My 67 example is whiter than the one in top pic

Hood - Rear Window
Your rear window should be this size, location (x&y), & shape. The width is shorter than later models
This car has had a replacement outer hood, but the headlining is OG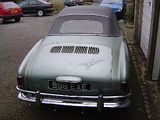 Hood - Trim


The third Hood Trim (front) was discontinued in January 1959 tbc, leaving just the two Hood Trims above and below the rear window
Some Cabs used (poppers) on the rear cowl area (early Cabs? pic to follow)
The lower rear Hood Trim housed 6 poppers for fixing the Hoodbag (later Cabs?). These poppers each required special 'packing' pieces

Hood Bag
The Hood Bag, supplied as standard, was fixed to the car using the six poppers on the lower rear Hood Trim (there was no popper centre rear), two poppers on each b-post (inner -at the top front of the Hinge Cover - and outer, on the bodywork), one catch at the upper rear of each of the 2 Hinge Covers, and two poppers on the leading edge of the rear parcel shelf
I believe the Hood Bag colour followed the Hood Outer colour tbc
They all had white piping tbc
Please see pics above

Hubcaps
The hubcap VW logo changed from being highlighted in body colour to being highlighted in black at some stage later in Lowlight production
An OG October 1958 Coupe (2 124 128) had/has 'body colour' logo hubcaps
An OG July 1959 Coupe had/has 'black' logo hubcaps

Inspection Covers
The two Inspection Covers in the front wheel well were painted black for the 1959 model year
Previously they were painted body colour tbc

Inspection Stickers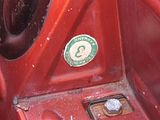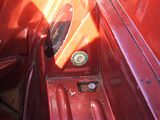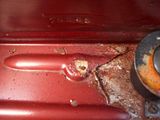 Karmann factory paint quality control stickers as seen in the spare wheel area of a Nov '57 Coupe (17.11.57)
'Karmann Lackkontrolle 3'
and probably 'Karmann Lackkontrolle 6'
Does your Lowlight have this cool detail? Please let me know if it does
I'm looking forward to the repro stickers

Jacking points
Remember these should be black, not body colour, as they are part of the floorpan

Key/s
Ignition/Doors: VW headed Huf key (SG code, 2 provided) tbc
Glovebox Lid: Small Huf key (SG code, 2 provided) tbc

Key Fob
A brown Karmann-logoed leather fob was supplied tbc

Knobs
Lets take a look at the different shaped knobs you can get

Knobs - Dash and Window Winders
From chassis 1 649 253 (16.09.57 tbc), the 1958 and 1959 Ghias used (Ghia only) Light Ivory Mushroom Dash Knobs


and Light Ivory Mushroom Window Winder Handles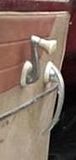 Knobs - Fresh Air
The 56 model year Ghia had 2 round white knurled Twist Knobs, one at each end of the dash
The 57 model saw the introduction of the PushPull Knob, located just at the left hand side of the dash
There were two versions - early 57's had the Golf Club PushPull Knob:


Then came the Paddle PushPull Knob: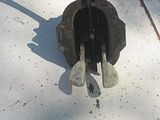 Knob - Gear
The 58 and 59 Ghias had a Light Ivory Fat Gearstick Knob (Ghia only)
The Fat Knob had a large thread.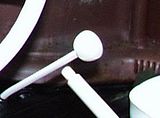 Knob - Heater
The 1958 and 1959 Ghias used a Light Ivory Smooth Knob (Ghia only)
The equivelent Beetle knob was ridged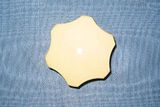 This knob continued til 1962

Knob - Seat
The seat adjuster had a Light Ivory Round Knob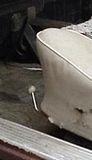 Make sure YOU have the right knob for your Ghia

Left Hand Drive
All Lowlights came from the Karmann factory in LHD format
RHD was introduced for the 1960 model year Ghia

Lights - Tail

Lights - Head
There were two main versions of headlight - Euro Spec and US Spec
The Euro spec used a wide chrome rim, and had a smaller diameter lense
The US spec used a thin chrome rim, and had a larger diameter lense
US Spec used a sealed beam lamp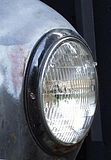 Euro spec used a separate bayonet bulb with separate lense
I have seen two different version of Euro Spec Lense:
1. Bosch Lense



2. Hella 'V' Lense



Lights - Indicators
Lowlights had essentially 2 versions of front indicators

1. Turret Type
The first version fixed onto a 'turret' which was integral to the front wing It was made up of a chrome bulb holder (similar to the early oval/type 2 assembly), a semi-conical chrome-plated steel outer trim with a rubber seal between the outer trim and body surface at its base, and a Hella lense

2. Non-Turret Type
From chassis 2 103 015 (03.10.5
, Karmann began using front fenders without stamped turrets, onto which screwed chromed die cast turrets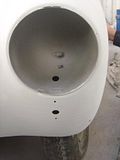 This second version was more cylindrical, and used a round outer ring (with rubber seal) with two screws that went through holes in the ring to affix the lens onto the base
There was a rubber or plastic gasket between the base and the fender surface

The lenses between the two versions are not interchangable

A third 'bullet' version came along in mid '64

Light - Interior
1956 and 1957 model year Ghias had a square Interior Light
1958 and 1959 model year Ghias had an oval-shaped Interior Light
For Cabs, the Interior Light was located under the dash on the RHS



Luggage Area (Front) wip

Sound Deadening – Bulkhead
There was a rectangular piece of sound deadening material glued to the bulkhead, above the petrol tank, under the bonnet liner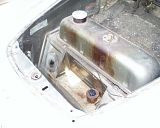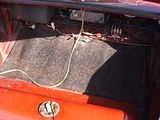 Approximate dimensions are 685mm x 305mm (27" x 12")
I would like to get some of this material as per orginal. Please let me know if you know where to source it

Bonnet Liner wip
On LL Cabs this was grey tbc
It was edged (beige, not cloth) tbc


Mats
Rubber matting was used for all the area in front of the rear seat for your Lowlight Cab:

1. The tunnel
2. The four flat floor areas
3. The sills (x2)
4. The bulkhead (one contoured piece)
There was no carpet at all in front of the rear seat area.
Bulkhead Mat

('

Beige'

)


Early 56 set-up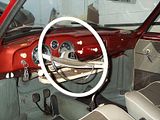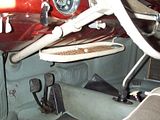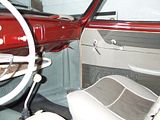 Cardinal Red 57/8 mats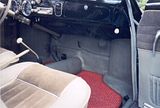 Toucan Black 56/7 mats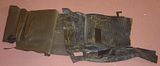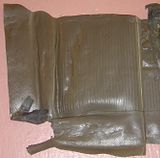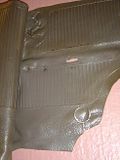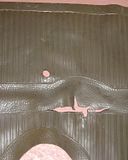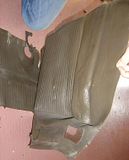 Mat has been converted for RHD hence pic 2nd left shows dip switch & t column holes crudely filled
Pic far right shows new st column hole crudely cut



Mats - Sill Mat

('

Grey

')


click pics to enlarge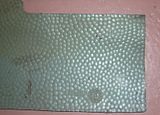 Detail - bubble effect all over no special edges



Mats - Sill Mat onto Tunnel Mat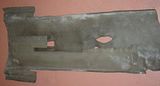 Not quite ideal to make the Sill Mat from a Tunnel Mat but you might just get away with it - inner edges are covered by the central Floor Mats



Mirror (Exterior)


No exterior mirrors were supplied from the factory for 1956 and 1957 Ghias tbc
Mirrors could be fitted by the Dealership - these were varied aftermarket items tbc
The Swan-Neck Mirror was introduced for 1958.


An original early SWM example can be recognised by the thick white seal that frames the actual mirror and the off-centre fixing location to the mirror head by the stem



Mirror (Interior)


The Cab's rear view mirror had a longer (swan neck) stem than the Coupe
This was presumably as the rear window had a lower position when compared to the Coupe



Painted Areas (Unusual)


Coupes and Cabs that had the full Rubber Mats: The lower heater outlet vents in the footwells were painted to match the Rubber Mat colour
Coupes and Cabs that had the Ribbed Padded Dashtop: The fresh air vents at either end of the dashtop were painted a satin black to match the Padded Dashtop



Petrol Tank


All Lowlight petrol tanks were painted body colour tbc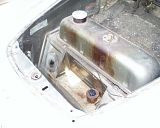 Radio Blanking Plate


56 and 57 model year Ghias featured a ribbed RBP as used on the Oval Beetle
58 and 59 model year Ghias featured a smooth RBP (Ghia-only)
A seal (clear) was not fitted until wip
The rear of the RBP had apiece of vinyl attached wip



Rear Seat Kick Panel


1956 model year Ghias tbc did not have the 2 metal rear seat kick panels under the rear seat supporting cross member
Later models did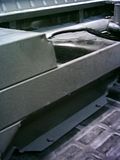 Seats - Front


Two main different styles of seats were used on Lowlights
Thinbacks: The 56/57 coupes had this style
Thickback (from 1 649 253): The later 58/59/60 style used the beetle-esque Thickback style
The Thickback Seat is believed to be the only one used on Lowlight Cabs



Seat Covers - Front


Two main different styles of Seat Covers were used on Lowlights
Cord: The earlier 56/57 Thinback Seats had a Cord insert with leatherette outers
Cloth: The later 58/59 Thickback Seats had a cloth insert with leatherette outers
The Cord or Cloth insert could be replaced with leatherette (matching the outers) as an Optional Extra
Most Cabs seem to have been all leatherette
All seat piping was white
No Cord-style seats (front or rear) are believed to have been used on the Lowlight Cab



Seat - Rear


The Cab had a narrower rear seat (approx. 34"") than the Coupe (approx. 40"")
This was to accommodate the required body strengthening panels
Cab rear seat hinges are different to Coupe hinges
Cab Seat Base: 889mm x 362mm
Cab Seat Back: 924mm x 419mm



Seat Covers - Rear


Again mirroring the front seats there were two main different styles of Rear Seat Covers used on Lowlights
Cord: The earlier 56/57 rear seat had a Cord face to the backrest and base
Cloth: The later 58/59 rear seat had a cloth face to the backrest and base
The edges of the rear seat were trimmed in leatherette to match the front seats
The rear of the backrest was carpeted
The Cord or Cloth could be replaced with leatherette (matching the outer edges) as an Optional Extra
Most Cabs seem to have been all leatherette from the factory



Seat - Rear Strap


The Cab had 2 white straps holding the seat either up or down
A long strap was attached to the rear parcel shelf
A short strap was attached to the rear seat cross member panel just above the tunnel
The strap(s) hooked over a shaped screw located on the top centre of the backrest
For the Coupe this situation was reversed
The coupe had one white strap fixed to the top centre of the backrest
This strap swivelled and latched over one of two hooks
This variance was required due to the lower position of the Rear Parcel Shelf on the Cab tbc



Sound Deadening/Tar Board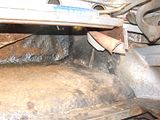 The rear under-shelf area had material like the engine firewall
Black hard coated on the outer side horsehair type material on the underside that stuck to the body
One main piece up the middle
And a pair for the wheel arches
The black side looks to have a large dimpled effect just like the engine firewall



Speaker Grill


This had 3 rows of louvres for early 1956 models and 4 rows for later Ghias
It was painted body colour up to the start of the padded dashtop (2 252 435 tbc) then left bare (black) thereafter



Steering Wheel


56 and 57 model year Ghias shared the Beetle's late oval steering wheel
58 and 59 model year Ghias (from 1 649 253) had the Ghia-only steering wheel
The 58 horn push was metal fixed to the chrome horn ring with 2 screws and had a pronged Wolfsburg badge
From 2 008 855 the horn push was plastic a snap-fit onto the chrome horn ring and had a flat Wolfsburg badge that was glued on
The Beetle steering wheel returned for the 1960 model year Ghia



Sunvisors


1956&57: Green Perspex 4 Stud Visor (the equivalent Beetle visor was 3 Stud)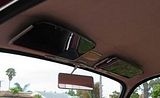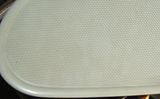 16.09.57: Plastic Waffle Sunvisor Introduced
On the Coupe these visors curved to follow the contours of the roof
The Cab visors were straight
These sunvisors located in a chrome fastener at their outer edge
1959: Padded Waffle Sunvisor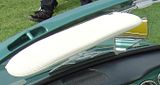 The Plastic Waffle Sunvisors were then replaced with the Padded Waffle Sunvisors
I have a couple of dates for this change:
2 252 435 (Dec 1958) or
19/20.01.59



Sunvisor Rod


The Plastic Waffle Sunvisor rod has a groove around its inner end
The Padded Waffle Sunvisor rod has two ears punched out of the rod



Tools an Accessories


Taken from a Jan 57 Instruction Manual your standard Lowlight toolkit included the following items:
[list]1 Fan Belt
1 Tool Bag
1 Spare Wheel complete
1 Jack
1 Combination Pliers
1 Screwdriver 0.8mm.
1 Screwdriver 0.5mm.
1 Open End Wrench 8/12mm.
1 Socket Wrench for Spark Plug Wheel Disc Bolt and Fan Pully Nut
1 Socket Wrench 14mm.
1 Rod for Socket Wrench and Jack[/list:u]



Underseal


Original drip below my headlight bucket: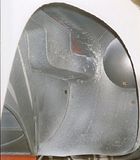 Small patch on underside of decklid: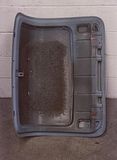 Covers recess area of the bonnet: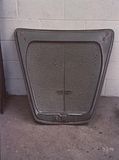 Note the indentation caused by where the spare wheel comes into contact with the bonnet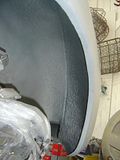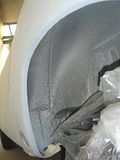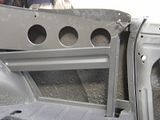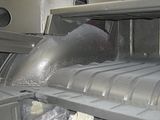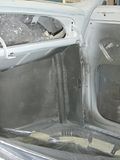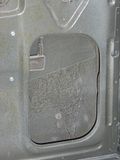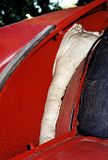 Does your Lowlight still have its 'socks' x 2?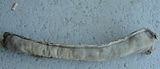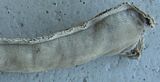 My Cab's 'socks' are made from the woven wool headlining material the same as in the pics above



Tool Bag wip





Waffle Material


The infamous Waffle Material featured on 58 59 and 60 model year Ghias
It appeared on the:
Doorpanel (middle section)
Plastic Waffle Sunvisor & the later Padded Waffle Sunvisor
The Cab's Hinge Covers (fronts only - same colour as Doorpanel middle section plain material on the rear)
The Cab's Rear Parcel Shelf strengthening supports (very small piece)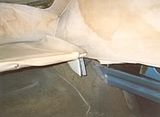 Wheels


All wheels were painted totally black with the centres a lighter colour
This lighter colour was predominantly a white (Pearl White) or a light beige colour tbc
Therefore all wheel outers were painted black
The border between these 2 colours was not 'in the groove' but about an inch futher out - this is a common 'error' on restored cars



All Lowlights came with 15"" Lemmertz beauty trims for the outer edge of the wheel
A Lemmertz beauty trim was fitted to the spare wheel tbc
Lemmertz trims are date stamped
The trims on my April 59 Cab were dated 02/59



Wireloom


Lowlights had bare-wire screw only terminals. Spade connections were introduced for the 1961 model year Ghia.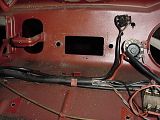 7.3 Cabriolet Only Features


The rear view mirror (longer stem)
The hood/hood mechanism/hood trim
The bonnet pull was lockable
The glovebox was lockable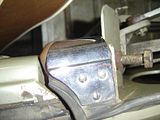 The Bpost Chrome Trim
The under-dash location of the Interior Light
The hood-mechanism Hinge Covers
The door glass
The rear seat straps
The rear seat was narrower
The rear seat hinges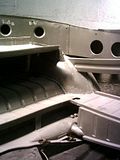 The various metal strengthening panels



7.4 Obscure Cabriolet Facts


All tbc



Rear Bow


The hood rear wooden bow was fixed to the rear body panel (using flat headed bolts) prior to the shell being painted
I have seen an NOS Rear Bow which had a 15mm deep rubber seal fitted (to go between the bow and the rear body panel

Whats left of my original bow shows signs of having the woven wool headlining glued to the back of it - maybe this was used as a type of buffer/seal or was this where part of the headlining was actually fixed?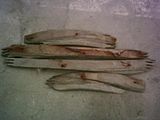 They must have loosened the bolts then?!

The front of my Rear Bow does show signs of being painted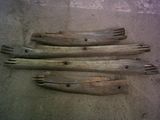 Cabin Cover


All Karmann Ghia Cabriolets were fitted with a 'cabin' outer protective cover by the Karmann factory after assembly
This was to protect the hood for delivery
These Cabin Covers had 'Karmann' printed on them in large font
An attachment point for the Cabin Cover was a tether to each door handle



Delivery


Lowlight Ghias were delivered without the headlights hubcaps and wing mirror installed



Tensioning Cables


The pair of wire cables were not used in the hood top cover side seams (around the side windows) until chassis 2 967 161 (March '60)
These cables were used to help eliminate fluttering noises in the top
Pre-29.03.60 hood mechanisms therefore did not have the metal cable hook (integral to the Bpost-section of the hood mechanism)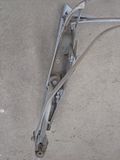 Protective Cloth for Rear Window


From Chassis no. 2 120 400 (Oct 1958) a soft protective cloth (1050mm x 650mm) was supplied with the Convertible. This cloth should be placed over the rear window when the roof is open to avoid the window being scratched.

A 4-page folding paper pamphlet was also included with the cloth giving more detailed instructions as follows:

Please note the following when opening the top:

When you have unlocked the top and lifted it slightly place the protective cloth over the rear window. The top can then be folded back smoothing out the folds between the bows with the back of the hand.

Press the top down until the catches engage. Secure the top boot on the inside first and then outside.""

The text was included in the Instruction Manual at the same time.
We have found an og paper pamphlet pictures & details to follow
Do you have one of the original cloths?
Please PM me if you do






The WG Brace


Most Cabs have a strengthening brace joining the Bpost to the rear wheel well: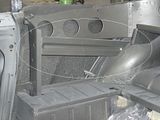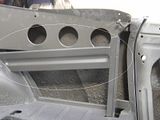 However it seems very early Cabs did not have The GW Brace
This picture is from Cab 350 chassis 1 769 376 Dec 1957
On this Cab at the lower end the Bpost there were cracks of about 20mm indicating a structural weekness that Karmann resolved by adding the brace



We know UK Cab chassis 1 833 575 (Feb 1958) did have this brace: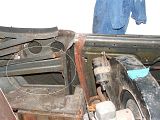 Does your early Lowlight Cab have this panel detail??!
Please let me know!"